dancingdragon3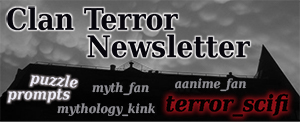 Prompt Puzzle for April 2017
~ Hints: Creature Feature = Horses | Power Hour = Illusion, Camouflage | Sports and Recc = Racing | Random Descriptor = Trickster
!New affiliate ~

fanficfocus
~
A place to get and give positive feedback on your fanfiction.
New and multi-fandom. And a very friendly bunch, so check them out!
AMC's
Preacher is now on Hulu
. Watch along with

sabotabby
and their
recap reviews
. Season 2 airs in June.
Wreckin' Wednesdays
April 6th
TV Recap and Review:
The Magicians 2x10
by

sabotabby
Season finale airs April 18th

Fan Fiction
Always Kitty's
[ X-Men | Lockheed+/Shadowcat | PG/K+] by

katleept
Only Forever
[Labyrinth | Sarah | Major character death, tragedy, gen] by

scripsi
Summary: Sarah wakes up in the witching hour, feeling something has gone terribly wrong.
AO3
|
LJ
If you have any media (books, tv, movie, podcasts, comics, games, etc) recommendations for your fellow clan members, or fan works of your own you'd like to promote, please respond to this post. As always, thanks for your contributions!
Upcoming Content:
A Black Sails discussion will go up soon on

terror_scifi
American God's airs on STARZ April 30th. Discussions will be at

terror_scifi
Lucifer returns in May, and so will discussions at

myth_fan