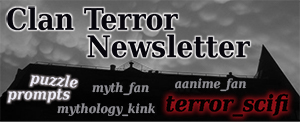 Cosmic Collision Prompt Fest:
Crossover any fandom/myth/original work with one of ours.
Round Two Prompt-Date Claim Post now up! Claim a prompt, or come up with your own. Fic posting deadline has been extended to October 16th!

terror_scifi
:
Reviewers Wanted! Especially for Gotham or American Horror Story.
Please respond to the newsletter or PM

dancingdragon3
.

puzzleprompts
:
September is an amnesty month. Meaning any puzzle can be written for!
Clan Terror Newsletter ~ Friday September 23rd (Sept 13 - Sept 22)