Title: Riding the May Dragon
Fandom: original fiction/Mesopotamian, Greek, Indian, Native American mythology.
Characters: Y'nan (Inanna-Aphrodite)/Lexan (Tezcatlipoca)
Genre: science fantasy, post-post apocalyptic, smut, established relationship.
Length: ~5600 words
Rating/Warnings: NC-17 for explicit sex, biting and blood drinking. Intersex character.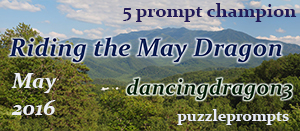 Summary: Two reborn lovers enjoy a May Day get-away from their families and divine responsibilities.
Note: Written for

puzzleprompts
May 2016 Puzzle: prompts = vampire, mountain, high noon, vehicle, and clean.
Also inspired for May Day Fest 2016 at

myth_fan
.
Note2: This fic was written for this prompt and the May Day Fest, but is set in my original series.
Note3: This is the first sex scene I've written in two years. Unlike Lexan, please be gentle. This is also the first time posting something from my original series, that I've been talking about and building for three years, so again, please be kind. I am happy for concrit! Or a new beta :-)
Riding the May Dragon on AO3